Event: The Monster Mashup
Saturday October 24, 2015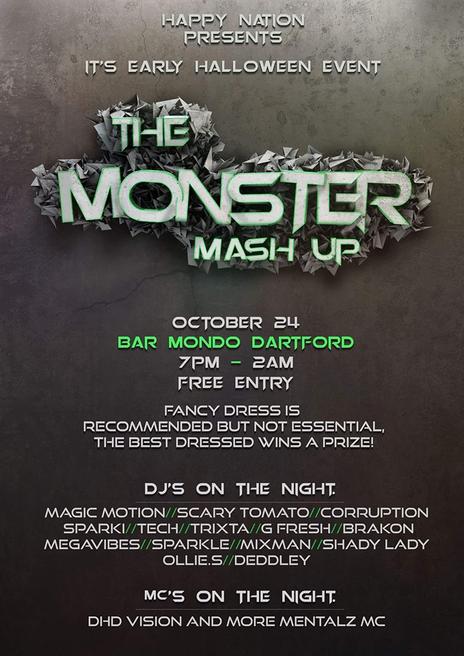 Happy Nation is back in Dartford town for an early Halloween Party, bringing you the best in Hardcore and oldskool Hardcore with a slice of D&B pumpkin pie! :) Make sure you fancy dress to impress for a chance to win a prize on the night, judged by the guys at Bar Mondo.
Entry fee for this one is Totally free!! Yes thats right were throwing a free party for your good selves!!
The all important DJ's bringing you their own style of musical madness are as follows:
Megavibes b2b with Sparkle,
Mixman b2b with Shady Lady,
G Fresh b2b with Brakon,
Magic Motion
Scary Tomato
Corruption
Trixta
Tech,
Ollie Startup,
Deddley,
Sparki.
No Haloween party would be complete withought the best masters of ceremonies in the business to boot the party into gear so we have booked the lyrical talents of,
MC DHD, MC Vision and the one the only... More mental than your Mum (hehehe) for this night of fun and spooky goings on!
The "Trixta Sounds" rig will be on site blasting those eardrums the only way we know how.... LOUD and Crystal GOD DAMN CLEAR with a new 10K setup so expect to hear every single note as you rave into the night.
Door security will be in full force making sure you are safe and sound so please no under 18's, this is a fully licensed establishment and you will be ejected at the managers descretion, should you decide to be a plonker so keep it real and keep it safe... were only here to rave you NUTTTERSSSSSS!!